Peter Tosh: the Stepping Razor still cuts deep in Jamaica
Peter Tosh Day is 20 April in Jamaica – an appropriate time to celebrate the singer of Legalize It. But there's far more to the reggae legend than his love of ganja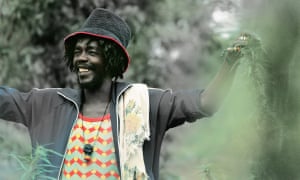 Honouring a founder member of the original Wailers trio, along with Bob Marley and Bunny Wailers, today is Jamaica's second official International Peter Tosh Day. The revisionist ironies in that simple phrase recall those of punk's current lauding by the British government. Swaggering and hectoring, the imposing Tosh was always a machete in any government's side. His vicious wit marked militant tunes like the anti-monarchist Babylon Queendom; 400 Years' take on Jamaica's racially ruptured history; Equal Rights; and Legalize It ("and I will advertise it"), the ganja lib anthem with which he announced himself as a solo artist, post-Wailers, in 1976.
Featuring photography by Lee Jaffe, a New Yorker who had played harmonica with The Wailers, the LP's sleeve was pure stoner's porn – Tosh toking away amid a field of towering marijuana plants that would have topped even the singer's lanky six-foot-plus frame. With last year's first Peter Tosh Day falling exactly five days after weed was decriminalised in Jamaica, you can almost hear the cycles of history whiz past – or more specifically, perhaps, a unicycle of the sort the ever-dramatic Tosh liked to ride in the streets, sporting his trademark firemen's shades and puffing at his meerschaum pipe.
He thought of himself as his musical alter ago, the Stepping Razor: "Don't you watch my size, I'm dangerous." But this synchronicity of Tosh's new establishment acceptance and the fruits of the legalisation struggle he fought for, as cannabis legalisation spreads across worlds rich and poor, are part of a broader awakening to the activist singer-songwriter's qualities. His final LP, No Nuclear War, won a Grammy in 1987. More recently, in 2012, Peter was awarded Jamaica's highest honour, the Order of Merit. As of this summer, fans will be able to see that unicycle and Peter's famous M16 guitar, a Stratocaster carved into the shape of a rifle, in a new Peter Tosh museum in Kingston. A Tosh film about the making of Legalize It, produced in association with BBC Films, will be directed by Kevin MacDonald, who helmed 2012's Marley documentary (disclosure: I was a consultant). Jaffe's extraordinary time with Tosh features in the plot.
So the legend of Peter Tosh is growing into an industry – or is simply gaining traction. Like Marley, Tosh grew up in effect fatherless in the countryside, yet made his life an extraordinary trajectory. When I first met him in a New York hotel to cover Legalize It, he reminisced warmly about the "peeny-wally" (fireflies) he loved to capture as a boy, to guide him through the forest at night. Peter's alpha male charisma shared the creatures' restless, irrepressible twinkle. These belated, deserved official recognitions cannot bottle the zany flamboyance with which Peter approached his revolutionary mission.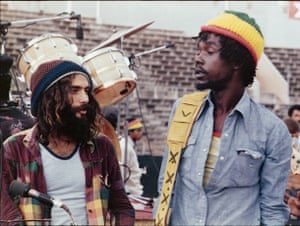 Startling Tosh tales abound, usually recounted with lingering amazement, even awe, by associates. I can't forget one heated exchange that the photographer Kate Simon and I had with Tosh in a Kingston car park. Like many Rasta rebels, along with Peter's fierce kung fu moves and ever-ready tracksuit garb, he could be a pretty patriarchal radical. To confirm his point, he bellowed that there was nothing more to be said, as he could make the thunder roar and the lightning flash. In an operatic gesture, he pointed to the sky. Right on cue, the elements loudly and brightly obliged, to Kate's and my stupefaction. You can call it cheap theatre, but I'm not sure how you'd actually buy it; and as a closing argument, it was compelling. Passionate about mystic African science, Tosh was known to replicate such shamanism elsewhere, giving substance to another of his chosen titles – the Bush Doctor.
In these arguably drier digital days, discussing such cosmic flourish could be seen as an attempt to trivialise Tosh's political seriousness. Rather, Tosh was an uncompromising Afrofuturist, whose highly charged livity (as Rastas call a way of life) helped make him a lightning rod for conflict. Tosh understood brotherhood. Rumours of sibling rivalry around the Wailers split must be countered by the fact that Marley helped fund Legalize It when the label's money ran out. Yet Tosh banged heads with his friend and then label boss Keith Richards, whose mountaintop Ocho Rios home Tosh first visited, then commandeered. The salvoes burnished both men's piratical myths.
But more seriously, Tosh's brutally blunt, wickedly satirical rants, as well as his ganja habits, led to innumerable beatings by the police, more than once approaching the point of death – a tragic resistance fighter's accolade that Tosh shares with Nigeria's postcolonial liberation musician Fela Anikulapo-Kuti. It was one year after the army destroyed Fela's Lagos commune, leading to the death of his mother, that Marley found himself in a Kingston prison cell, shocked to tears by the sight of his close bred'ren Tosh lying battered and bleeding on the floor.
This brutalization, the gravest of many, was prompted by Tosh's showstopping speech at the One Love Peace Concert held in 1978 to mark the truce between downtown's warring dons, which had led to a politically motivated attempt on Marley's life two years previously – part of a spectacularly bloody run-up to the election. Supported by the classic Sly and Robbie rhythm section of his Words, Sound & Power band, Tosh boldly skewered corruption in the world, Jamaica and the audience itself, scathingly naming names in a bravura performance that stunned the crowded stadium. And vengeance had soon come. So a violent death may not have been unlikely for Peter Tosh, though ultimately, its manner was unexpected and grotesque. Along with his DJ bred'ren, Doc Brown and Jeff "Free-I" Dixon, Tosh was shot to death on 11 September 1987 in his Kingston home by Dennis "Leppo" Lobban, a longtime acquaintance recently released from prison, whom Tosh had been trying to help.
Though his later albums were often considered patchy and polemical, the unstoppable Peter Tosh never abandoned his political commitment. His hardcore activist reputation will endure, for his ceaseless focus on issues that resonate today, from apartheid to nuclear war, which few musicians addressed so directly.
Despite Tosh's new embrace by the system that tormented him in life, it seems that conflict still follows him: due to the Jamaican elections in February of this year, the scheduled Peter Tosh festival has been canceled till further notice. But no election shenanigans can make the Stepping Razor lose his edge; his messages will forever cut through.
POSTED ON: April 20th, 2016
Categories: News